Hello Fellow Patriots:
Biden is frequently inarticulate and famous for often going off the rails, leaving you wondering as to his possible senility for throwing republicans against trump. Is it just a clever tactic for the supposedly addled President or a carefully thought-out plan? Biden clearly is not as brilliant and totally clear-headed as some Democrats proclaim. And, he is not jacked up on mind-altering drugs all the time as some Republicans claim. Like all things, the truth lies somewhere in the middle.
Recently, we heard Biden start using the then-new term "MAGA Republicans" with little definition. That messaging has been sharpened quite a bit with the message: "…that MAGA Republicans allied to former President Donald Trump fit the "definition of fascism" and play a part in "attacking our democracy." This tells me that this is not Biden making another gaff, but a midterm elections line of attack.
Republicans Against Trump, Despite An Undeniable Win:
Even the Dems can't completely gloss over the 74 million votes Trump received; a record, except for the official total of 81 million votes Biden garnered. I'm not a fan of polls, there are too many variables in how questions are posed and the real ringer…Republicans against Trump are less likely to participate in polling in general. Consequently, Democrats are consistently over-sampled by several percentage points vs. Republicans. Read the hyperlinked article to understand why. The upshot of published polling is that it frequently has the effect of reducing the turnout of some groups while increasing that of others.
This is by design with Democrats the masters of this technique, hands down. Here's a good example of how voter enthusiasm is manipulated. Just over one month ago the Democrats were running for the hills, or so it was reported. With Biden's numbers in the toilet, Democratic Strategists knew they had to change the messaging. Biden's legislative teams have had a string of recent wins.
But largely the electorate does not seem to care much about them. Evidence of that is in his Favorability ratings which have moved from 38.5% favorable up to 42.7% favorable. Still, historically low numbers. This is the definition of a bounce. Bounces, typically don't last. The average loss of seats in the House for an incumbent President in a mid-term election is 37 seats for an unpopular President. Biden is, almost by definition, very unpopular with the majority of likely voters dinging him on almost every important subject. With the media putting out reports that the "wave" election is more likely to be a "puddle", you are witnessing organized voter suppression in action. "Why to go and vote when your guy is so far back in the polls" is the not-so-subtle messaging.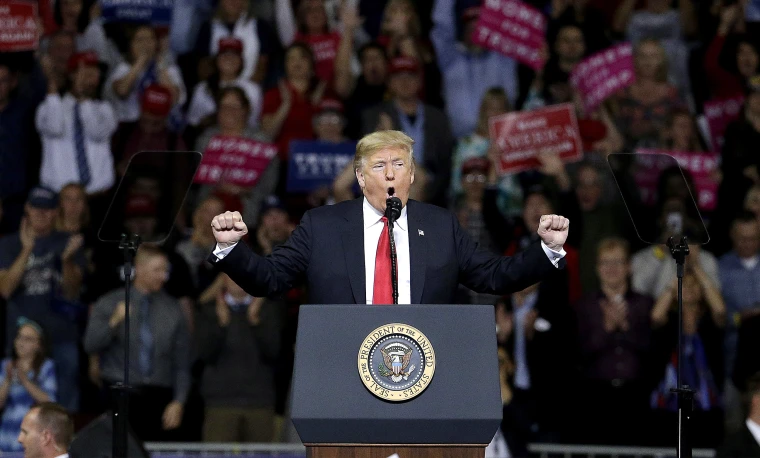 But, there's a new element in play today. The messaging of Extreme MAGA Republicans is designed to shame Republicans in the same manner Liz Cheney is doing so against Trump. Cheney has been nothing more than a useful shill for the Democrats. Her hatred for Trump is real, visceral, and unrelenting and trumps her supposed constitutional fears. Certainly, one would think she would understand that the House Select Committee is just using her as a hatchet woman against other frightened elected Republicans and nervous Republican voters who still believe, flaws and all, that Trump delivered more accomplishments than any other Republican President in the last hundred years. Let's see how many Democrats back her in her next political pursuit! In the final analysis, her hatred for Trump is greater than her loyalty to her Republican conservative principles. Cheney never acknowledges the obvious imperfections of politics in an age of instant communication and focus group message testing.
CNN's Trump-Oriented Coverage: The Key to DNC's Persuasion Agenda:
The DNC realizes that they can't let the Trump issue/factor go away or they will lose. He has to be "the" issue that every persuadable voter is hammered with over and over again. Listen to CNN, except for commercial breaks, you have a better than 75% chance of CNN talking heads expounding over something to do either with the J6 Witch Hunt or something else Trumpian. Our new Roman Games are held in a Democratic Coliseum with Trump thrown to the lions on an endless loop. A spectacle Emperor Biden must deliver to his people to divert them from focusing on, God forgive me, his record!
Think for a moment about what MAGA stands for if you've forgotten. Make America Great Again. Who could be against such a message, as tens of millions of Americans believe instinctively that yes, they'd like to see their country return to the way it used to be? We are unabashedly for a return to when we were at our best, even as we acknowledge the terrible mistakes that sometimes accompanied our best of times. Yes, we want to return to those days, no, we don't intend to put people back into chains. Those genies are out of the bottle and good riddance.
Democrats know that what MAGA stands for is a call to action understood by millions of activated Republicans. By parsing MAGA by adding other taglines like Dark MAGA, Ultra Maga, or MAGA Fascists, they seek to not just demonize Republicans, but employ a military-like tactic of preparing the ground ahead of the next attack in a form of psychological warfare. And, it works folks! Voter apathy ebbs and flows according to both the severity and frequency of such messaging. Democrats are spending vast amounts of money essentially running against a non-candidate for the moment. They have calculated that the worst thing that could ever happen to them would be for Emperor Biden to stand naked on his record in the cold light of day without anything to hide his utter nakedness.
The Crystal Ball: Unfolding the Republican Ideals and Principles:
.
Do you have to ask yourself how all this plays out? Keep in mind that Republican ideals and principles tend to be reliably conservative, almost by definition. This makes them, in the absence of some kind of major blunder…predictable. Democrats, on the other hand, are almost always in flux. Democrats live in a frat house of widely diverging underlying views. This is papered over by an almost Stalinist approach to how their people are kept in line. Only the most far-left elements of the Democrats, the so-called Squad, and their supporters toe a different line and get away with it. It's how liberals see their children. We love our cute little socialists or precocious niellists. It's a kind of pressure relief valve for the many leftist supporters of the party not actually in power, but see today, right now is the left's best chance to completely overthrow democratic institutions in favor of whatever they conceive of as to what's next. Watch those Squad members 'go' as their proud parents light up in awe!
But those leftists carry a terrible secret. For the Democrats, their far left is also their Kryptonite. They scare the bejesus out of not just Republicans but millions of Democrats as well. The Dems just don't say it out loud, thinking the child they keep in the closet is a secret when it's not. At any time, the Democrats will face their next existential crisis which will force them to try and reform it in time to limit their midterm losses. History bets against them getting such a pass.
God bless America, its values, traditions, and especially the Ukrainian people who endure the unendurable at this moment. Oh! And, my salute to Queen Elizabeth's passing. Quite a lady!
Allan J. Feifer
Patriot